INTERNATIONAL CONFERENCE OF COMHAD, CHPA & IAP 2015
April 15, 2022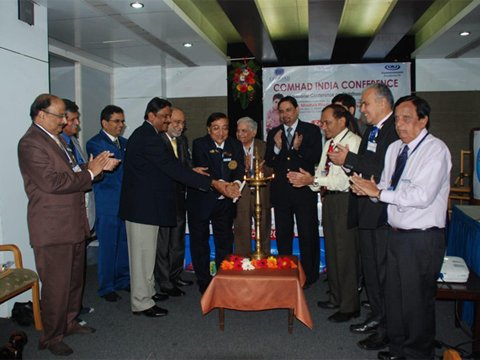 NATIONAL CONFERENCE OF COMHAD 2013 KOLHAPUR
April 24, 2022
INTERNATIONAL CONFERENCE OF COMHAD, CHPA & IAP 2018, BENGALURU, KARNATAKA, INDIA, 8-10 December 2018.
UNICEF SCIENTIFIC SESSION
International Conference of COMHAD 2018, in association with Commonwealth Health Professions Alliance (CHPA), NIMHANS Bengaluru, Ramaiah Medical College Bengaluru, Indian Academy of Pediatrics Bengaluru, IAP Karnataka, UNICEF, DME, RGUHS, & India & Bangladesh Chapters of COMHAD, was held at the most famous "Silicon Valley & Garden City of India" Bengaluru, Karnataka, India, on 8th & 9th December 2018 at Ramaiah Medical College Auditorium, Bengaluru, Karnataka, India.
The theme of the conference was "Transforming Comprehensive Disability Care in Children from Policy to Practice" The conference was inaugurated at the hands of Governor of Karnataka, Hon. Shri Vajubhai Rudabhai Vala. It was a very successful conference attended by about 800 delegates from every corner of the medical and social field working for the welfare of specially challenged children. The eminent International and National faculties actively participated as Faculties for Scientific Sessions held.
It was concluded that with more active selfless participation of policy makers stakeholders along with medical fraternity, transforming comprehensive disability care in children from policy to practice is possible.