Corona Warriors Felicitation by COMHAD & CHPA UK, Nagpur, MS, India, July-August 2020
During this challenging period of war against Covid 19, we the members of COMHAD recently in the month of July and August 2020, felicitated, appreciated various sincere Government servants, bureaucrats, and politicians by conferring "Corona Warrior Honour" for their outstanding commitment, contribution, selfless service with dedication as frontline Corona Warriors.

This was with meeting them individually in their good offices with prior appointment and presenting them a memento with appreciation words on it, shawl and bouquet. Dr. Yashwant Patil International President COMHAD, Dr. Uday Bodhankar Executive Director COMHAD & Deputy Chairperson CHPA the UK, and Dr. M. S. Rawat Advisor COMHAD & others had the opportunity to felicitate these people. With this COMHAD has proudly fulfilled its longstanding commitment or wish of appreciating and honoring these frontline Corona warriors. COMHAD members present during felicitation assured them that COMHAD is a part of this ongoing war against Covid 19.

All of them in their capacity went ahead in this war against Covid 19 epidemic, took their responsibilities sincerely, worked tirelessly with commendable contribution, and helped Covid 19 affected patients in addition by following their regular duties.

Due to these combined efforts of all of them, the Nagpur district was much safer than other districts in the division. They set an example for every one of excellence in leadership & effective management of people/other resources.

These eminent personalities felicitated are – Honorable Shri Nitin Jairam Gadkari, Union Minister for Road Transport, Highways & Minister of Micro, Small & Medium Enterprises Govt. of India Honorable Shri Devendra Gangadhar Fadnavis, Leader of Opposition Maharashtra Legislative Assembly Former Chief Minister Maharashtra Padmashri Dr. Vikas Haribhau Mahatme, Member of Parliament (Rajya Sabha) Hon'ble Shri Sandip Joshi, Mayor of Nagpur Hon'ble Dr. Sanjeev Kumar, Divisional Commissioner Nagpur Hon'ble Shri Ravindra H. Thakare, Collector Nagpur District Hon'ble Dr. Bhushankumar Upadhyay, Commissioner of Police Nagpur Hon'ble Shri Tukaram Mundhe, Municipal Commissioner Nagpur Hon'ble Dr. Sanjay Mukherjee, Secretary Medical Education & Drugs Dept. Govt. of Maharashtra Hon'ble Maj. Gen. Dr. Vibha Dutta, SM, Director AIIMS Nagpur Hon'ble Dr. Sajal Mitra, Dean GMCH Nagpur Hon'ble Dr. Ajay Keoliya, Dean IGGMCH Nagpur Dr. Sanjay Jaiswal, Deputy Director Health Services Nagpur Dr. Avinash Gawande, Medical Superintendent GMCH Nagpur Dr. Ravi Chauhan, Medical Superintendent IGGMCH Nagpur Dr. Manish B. Shrigiriwar, Medical Superintendent AIIMS Nagpur Dr. Meena Mishra, Professor of Microbiology AIIMS Nagpur Shri Ajay Badrinarayan Soni, Chief Editor Pharmacist Times, National President ABPWA
National Webinar for Parents – Panel Discussion on Care of Children in Covid-19 Pandemic, India, 21 August 2020
National virtual webinar for parents – Panel Discussion on Care of Children in Covid, was held on 21-8-2020 from 8 PM to 9 PM. This was organized by the Indian Academy of Pediatrics as host, wherein our Executive Director Dr. Uday Bodhankar actively participated as one of the faculties. Other faculties were Dr. Bakul Parekh National President IAP & Dr. R K Gupta National Executive Member IAP. The Moderators for Panel Discussion were Dr. Shekhar Dabhadkar National VP West Zone IAP & Dr. Swati Ghate. Total beneficiaries were about 200.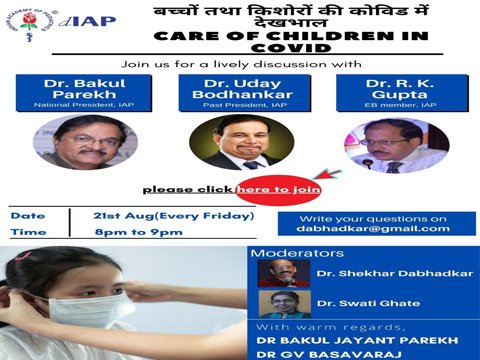 Patronage to Panchavati Ashram-Home for Senior Citizens, Nagpur, MS, India, 12 November 2020.
On behalf of COMHAD UK, Dr. Uday Bodhankar Executive Director COMHAD, Prof. M S Rawat Advisor COMHAD, & Prof Prakash Ukey Treasurer COMHAD visited the Panchavati Ashram of Matru Sewa Sangh – Home for Senior Citizens, Umred Road, Nagpur, and actively participated in the great humanitarian and philanthropic project of COMHAD. They distributed Diwali snacks packets to the respected senior citizens residing there and interacted with them on common health issues & sought their blessings for our future projects. This was on the occasion of Diwali which was celebrated with a difference. Total beneficiaries were about 50.

It was the most gratifying moment of our life to be associated with our own Senior citizens and were touched by the hearty welcome from all of them led by Mrs.Tikekar and Mrs. Bhagwat. COMHAD will always treasure the golden time spent together and sought blessings from them for our future projects.
Global Webinar on Infection Prevention and Control Measures in Response to Covid-19 Pandemic, 28 November 2020, India. (Virtual).
Global Webinar on Infection, Prevention & Control Measures in response to COVID19 Pandemic, was organised by COMHAD in collaboration with Service Master India on Saturday dated 28th November 2020 from 6 PM to 8 PM (IST) in India on the Virtual platform of COMHAD. With the kind invitation and efforts of our Advisor Dr Sunil Khaparde who is Advisor Public Health PHO Mumbai Govt of India, this activity was organized by Dr Uday Bodhankar who handled the programme logistics with immense efforts and meticulous coordination and moderated the programme precisely with perfection.

The eminent faculties were Global and Indian Healthcare Experts and Scientists (Three Padma Shree, and Three International Faculties) from various specialities of health such as Pulmonary Medicine, Public Health, Environmental Science etc. from reputed National and International Institutions/Organizations, coveted with highest honours and positions. They are – Hon. Dr Vikas Mahatme Padma Shri 2010, M.P Rajya Sabha who gave Key Note address on "Political commitment & Role of Govt. for prevention and control of Covid19".

Dr Sunil Khaparde Advisor to Public Health SPL PHO Mumbai, Ex-Deputy Director-General TB, Ministry of Health and Family welfare GOI, talked on "Epidemiology and Containment strategy to prevent and control COVID19 in Mumbai".

Dr Carrie Tudor – TB Project Director - International Council of Nurses USA, Ex Senior research coordinator – John Hopkins University school of medicine, Member of End TB Transmission initiative (ETTi), talked on "Introduction to Infection Prevention and control". Padma Shree (2020) Dr Raman Gangakhedkar, Former Head Scientist ICMR, talked on "CORONA Vaccine and Development".

Dr Paul Jensen Former CDC Member the USA, Member of End TB Transmission initiative (ETTi), talked on "Basics of UVC technology in airborne infection and COVID19".

Mr Bill Palmer Founder & President Aeromed USA, American Council-certified Environmental Infection Control Consultant, Air Filtration Specialist, Member Upper Room UV Technical Committee, talked on "Application of UVC technology in airborne infection and COVID19".

Prof Sanjay Zodpey Vice President Academics – Public Health Foundation of India New Delhi, Director Indian Institute of Public Health New Delhi, President Indian Association of PSM. "Deciphering the mortality associated with COVID19"

Dr Ravindra Sarnaik – Director Leela Mores Chest Clinic Nagpur, Chairman NCCP Maharashtra, Specialist in Chest & TB Pulmonary & Respiratory Medicine, talked on "Early detection and management of covid 19".

Mr Edward D'Souza, President Service Master India, talked about "Environmental Infection Prevention and Control practises at Healthcare Facilities".

Dr Digambar Behera Padma Shri 2020, Former Dean PGIMER, Ex-Senior Prof & Head Pulmonary Medicine, Ex-Director NITRD, Chairman National Task Force- NTEP/RNTCP, gave "Concluding Remarks" in detail.

In their deliberations, they discussed the concerns and solutions for infection, prevention and control measures in response to Covid 19 pandemic.The total beneficiaries were about 140.